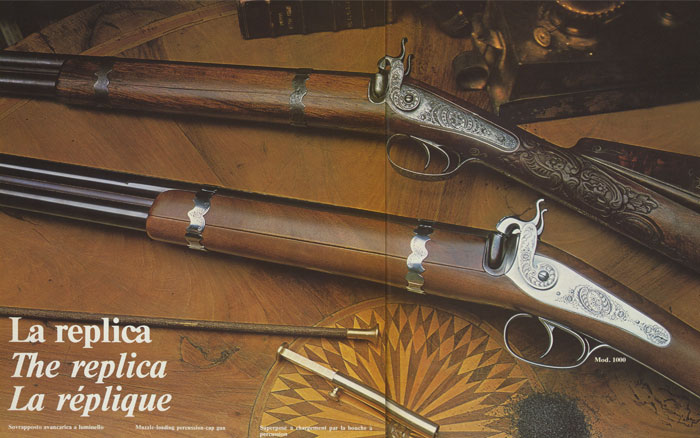 Muzzle-loading percussion-cap gun Beretta model 1000.
On the occasion of the 300 anniversary of their traditional Foundation in 1680, Beretta present a REPLICA of one of their best over-and-under shotguns produced between 1835 and 1865.
Every original component has been faithfully reproduced with the intention of fully satisfying collectors and muzzle-loader enthusiasts, while at the same time offering maximum shooting performance and safety.
Other characteristics
- Front sight: metal half bead
- Stock made of choice walnut, in the English fashion, with a cheek-piece on the left side and a metal butt plate
- Sling swivels on stock and barrels
- Ramrod held by appropriate thimbles.

Warning Use only black powder - never use smokeless powders! Our muzzle-loading gun is safe and great fun to use, but you must strictly observe all safety norms for loading and firing.
Loading When you are sure that barrels and nipples are free from any obstruction and reasonably clean:
I - Verify that hammers are totally lowered upon the nipples, and not cocked or half- cocked.
2 - Pour black powder down the barrels, using the given measure; make quite sure that you are using proper black powder and that and you have dosed it correctly. 3 - Place the wad over the muzzle.
4 - Press the wad down onto the powder with the ramrod.
5 - Load the correct quantity of shot, using the given measure.
6 - Fit the over-shot wad over the muzzle and ram it down firmly, so that the shot will not fall out.
7 - Pull the hammer back into the half-cock position.
8 - Place the percussion caps over the nipples.
9 - Pull the hammer all the way back into the full-cock position. The gun is now ready to be fired.


Specifications: 12 Gauge, Barrel length: 76 cm, Ovrlall Length: 118,5 cm, Weight: 3,2 Kg